The second part of my series on the 2020 United States presidential election. Part 1's here:
Debunking American Election Myths, Part 1: The Capitol Siege
The misinformation I'm covering this time is who was behind it?
The official story is that the Capitol siege was the work of right-wing/Republican/Trump supporting extremists. Many, however, now believe that it was really Antifa and BLM pretending to be Trump supporters to give Trump supporters a bad name.
Many share screenshots of a since-deleted Washington Times article claiming that facial recognition software company XRVision had identified many Antifa/BLM activists among the people storming the Capitol.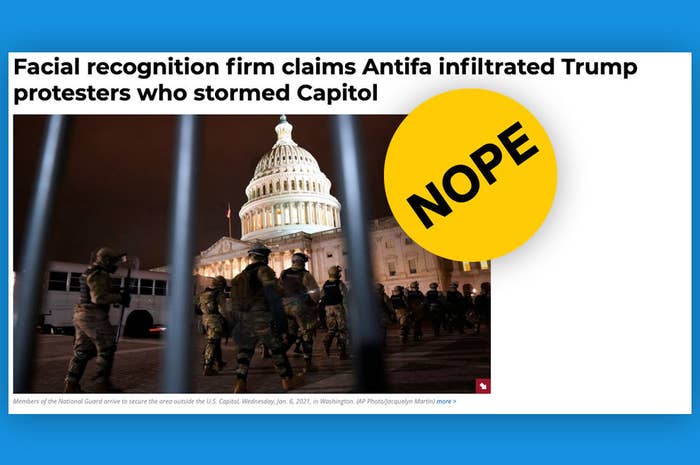 Except that that turned out to be fake news, with XRVision confirming they hadn't identified any known left-wing extremists among the mob, and the Times has since apologised for the article.
https://www.buzzfeednews.com/article/craigsilverman/facial-recognition-antifa-washington-times-false
Claims that two of the photographed ringleaders are Antifa/BLM are doing the rounds, with fake "evidence":
First off, it's by now been established that the persons in the photo on the left are NOT the same as the persons on the right.
https://mashable.com/article/capitol-attack-jason-tankersley-matthew-heimbach-misidentification/
Secondly, the photo on the right is from an Antifa page identifying alleged Neo-Nazis. In short, definitely NOT Antifa or BLM members. In fact, you can read the original page here:
A more popular claim is that the Viking guy is a BLM protestor.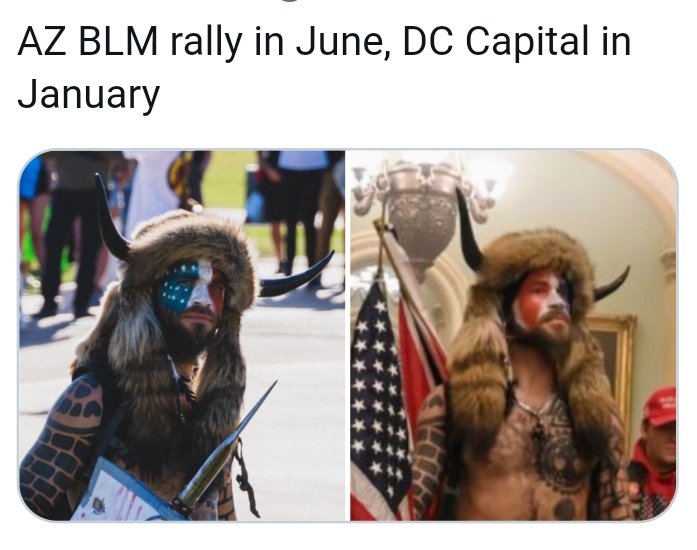 The people sharing this always crop the full photo from the BLM rally:
He was there as a COUNTER-PROTESTOR. "Q" is a clear reference to "QAnon". Here are several more photos of him: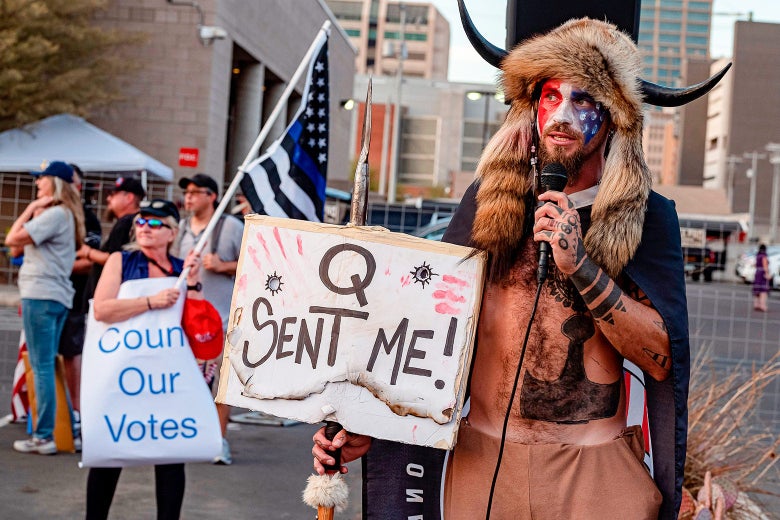 The man is Jake Angeli. He's spoken at Trump rallies. He calls himself the "QAnon Shaman", or something like that.
A widely circulated photo shows Angeli with Nancy Pelosi's son-in-law Michael Voss. However, Voss is a foreign correspondent for several Dutch television shows who often covers Washington, DC events, and that photo is from his job as correspondent. You can also find photos of him with Donald Trump, George W. Bush, etc.
https://leadstories.com/hoax-alert/2021/01/fact-check-pelosi-son-in-law-qanon-shaman.html?fbclid=IwAR1w4UDkIAkKIcLKqppiLjVZ-d6mBUa8pFcOf3RfceaDuyjybRea2cYMbPA
https://en.wikipedia.org/wiki/Michiel_Vos
It's pretty obvious that he's NOT Antifa, that he is indeed a Trump supporter, but the false claim that he's Antifa/BLM is still making the rounds.
It's also falsely claimed that the protestor wrongly identified as Jason Tankersley had the communist Hammer & Sickle tattooed on his wrist.
In reality, this is a video game symbol.
Additionally, Republican Congressman Derrick Evans, a member of the West Virginia House of Delegates, took part in the storming of Congress and was arrested 2 days later on January 8th (and resigned from the West Virginia Congress on January 9th).
https://en.wikipedia.org/wiki/Derrick_Evans_(politician)
(And reading about him, he's definitely not a so-called "RINO".)
Pro-Trump lawyer Lin Wood tweeted praise for the rioters as the Capitol siege was in progress, 100% backing them – before turning around and attempting to blame Antifa once it was over.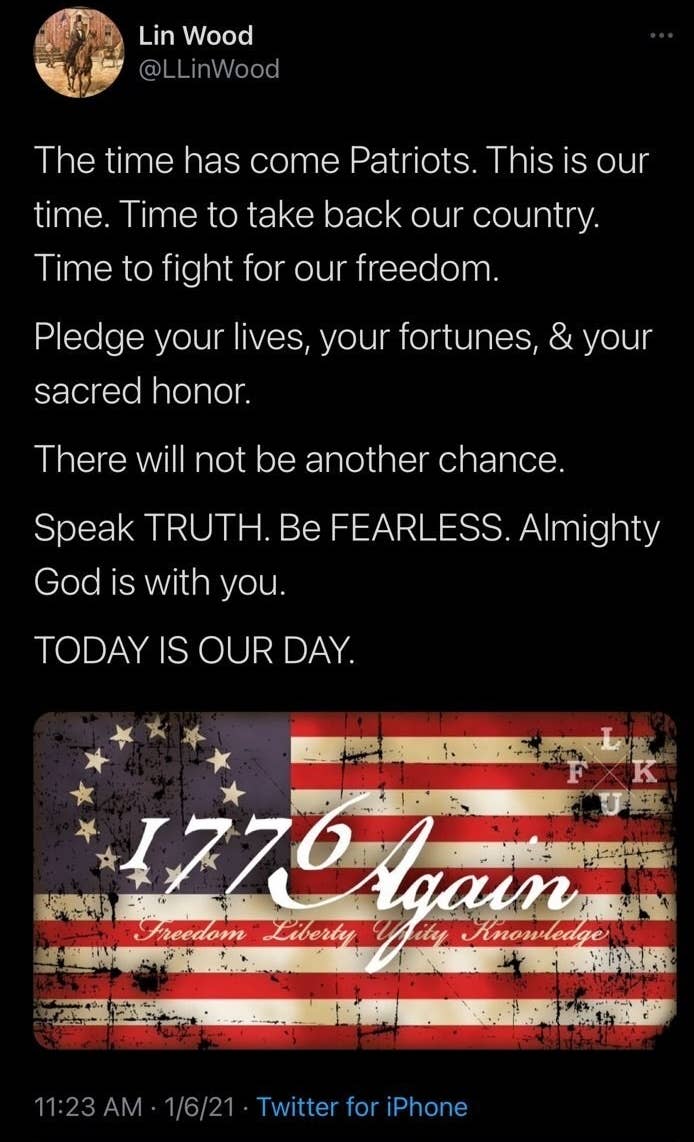 Trump's lawyer Rudy Guiliani called for "trial by combat" shortly before the mob stormed the Capitol, and Donald Trump Jr called for "total war". Afterwards President Trump himself called them "patriots".
Extremists on Parler and other social media sites had been calling for storming the Capitol during the joint session to count the electoral votes and be "judge, jury and executioner" for weeks before it happened. Many others had been calling for violence, civil war, revolution, etc, while at the same time claiming to be "patriots". Some of them are still calling for violence for President-Elect Biden's and Vice-President-Elect Harris' inauguration on January 20th.
https://www.usatoday.com/story/tech/2021/01/06/trump-riot-twitter-parler-proud-boys-boogaloos-antifa-qanon/6570794002/
https://www.abc.net.au/news/science/2021-01-08/us-capitol-storming-planned-for-weeks-online-social-media/13039302
In short, the storming of the Capitol really was incited and carried out by right-wing extremists – although it should of course be emphasised that they only represent themselves, NOT right-wingers, Republicans or Trump supporters in general (despite how some media outlets are spinning it).
That said, there really was one BLM activist who took part in the storming of the Capitol. He claims to have only been there as a journalist, but his own footage shows him taking part.
https://www.justice.gov/usao-dc/pr/utah-man-charged-federal-court-following-events-united-states-capitol
However, he didn't "incite" the mob (although after it started he encouraged others to join in) or anything like that. Just another participant.