On Sunday, I notified you all that I'm doing a Reader Request; meaning you can ask me any question you want, and I'll TRY to answer them.
Well, the day of reckoning has come!  You've asked the questions; now I'll supply the answers.
BONNIE HAWKINS' QUESTIONS
Have you written a book?
No – BUT I'm writing one; I'm in the middle of editing my Restored English Translation (RET) of Genesis for publication; I've finished editing the translation itself (and the introduction), and am adding the footnotes (which are the final touches).  Hopefully, you'll see an announcement on here in the next few weeks that I've published!
SHAHESHAL'S QUESTIONS
Did you like writing from the start J-M or just a few years ago???
Pretty much from the start; when I was younger, I used to love coming up with story ideas (often rip-offs of something I'd read or watched 🙂 ), although actually writing them was another matter.  Blogging – and FanFiction – allowed me to actually write.
CARAMEL'S QUESTIONS
Where on earth is all the toilet paper? I don't understand it. I am trying to do the math and work out how for two weeks there had been no toilet paper on any of the four large supermarket shelves in walking distance from my home. Where is it?
My supermarket's had similar problems.  Some idiots people seem to think they'll need hundreds of rolls of toilet paper to last a couple weeks.
If that's the case, buddy, you should've seen a doctor LONG before COVID-19!  Not to mention it's leaving the rest of us short on toilet paper.
EKURIE'S QUESTIONS
Do you ever hope to (or are you presently) write a book? Biography, non-fiction, fiction or autobiography?
I'm currently in the final stages of editing my RET of Genesis for publication.  I'm also in the middle of writing a historical novel about Moses on FanFiction, which I might try and publish at some point.
https://www.fanfiction.net/s/12926862/1/Moses
What is your favorite genre to read?
Definitely THRILLER; and my favourite thriller author is JAMES ROLLINS.  His name ALONE is more than enough to convince me to pick up a book!  He's one of the best authors around!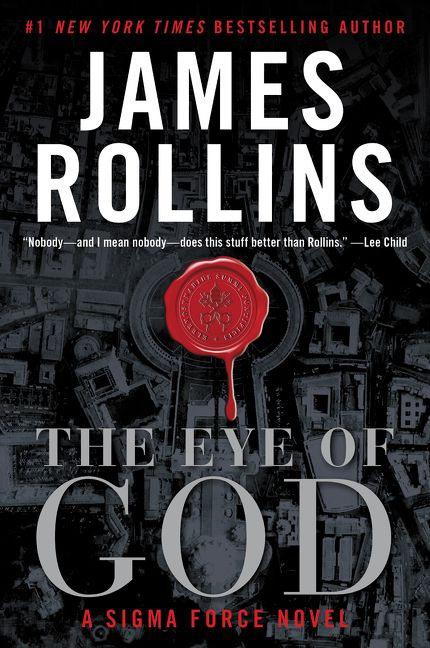 (The first novel of his I read.)
My second-favourite genre is science fiction – which Rollins' books often partly are; after Rollins, my favourite sci-fi author is ALEX SCARROW – specifically his TIMERIDERS series!
JIM'S QUESTIONS
Favorite Bible passage?
Ooh, that's a tough one!  There are so many great verses!  (Of course, the whole Book's great 🙂 .)
One of my favourites is Psalm 145:
1I will exalt you, my God the King; I will praise your name for ever and ever.2Every day I will praise you and extol your name for ever and ever.3Great is the LORD and most worthy of praise; his greatness no one can fathom.4One generation will commend your works to another; they will tell of your mighty acts.5They will speak of the glorious splendor of your majesty, and I will meditate on your wonderful works. 6They will tell of the power of your awesome works, and I will proclaim your great deeds.7They will celebrate your abundant goodness and joyfully sing of your righteousness.8The LORD is gracious and compassionate, slow to anger and rich in love.9The LORD is good to all; he has compassion on all he has made.10All you have made will praise you, O LORD; your saints will extol you.11They will tell of the glory of your kingdom and speak of your might,12so that all men may know of your mighty acts and the glorious splendor of your kingdom.13Your kingdom is an everlasting kingdom, and your dominion endures through all generations. The LORD is faithful to all his promises and loving toward all he has made. 14The LORD upholds all those who fall and lifts up all who are bowed down.15The eyes of all look to you, and you give them their food at the proper time.16You open your hand and satisfy the desires of every living thing.17The LORD is righteous in all his ways and loving toward all he has made.18The LORD is near to all who call on him, to all who call on him in truth.19He fulfills the desires of those who fear him; he hears their cry and saves them.20The LORD watches over all who love him, but all the wicked he will destroy.21My mouth will speak in praise of the LORD. Let every creature praise his holy name for ever and ever.
LYDIA POTTER'S QUESTIONS
How old is your blog?
Two years this May.
Do you like Disney!? 😉
Yes, I'm ashamed to say that I'm guilty of the horrible crime of being a major fan of the House of Mouse!
It only gets worse: I've published glowing reviews of several Disney movies!  Ah, the horror!
I'm afraid I'm past the point of no return; there's no saving me now!
What's your favorite wacky food combination?
Dipping KFC buns in potato and gravy.
BROTHERS CAMPFIRE'S QUESTIONS
What is your favorite junk food?
Anything KFC!
I hope you enjoy reading my answers; I certainly had a lot of fun writing them!  Have a great weekend.